Spiced Apple Butter – Two Kinds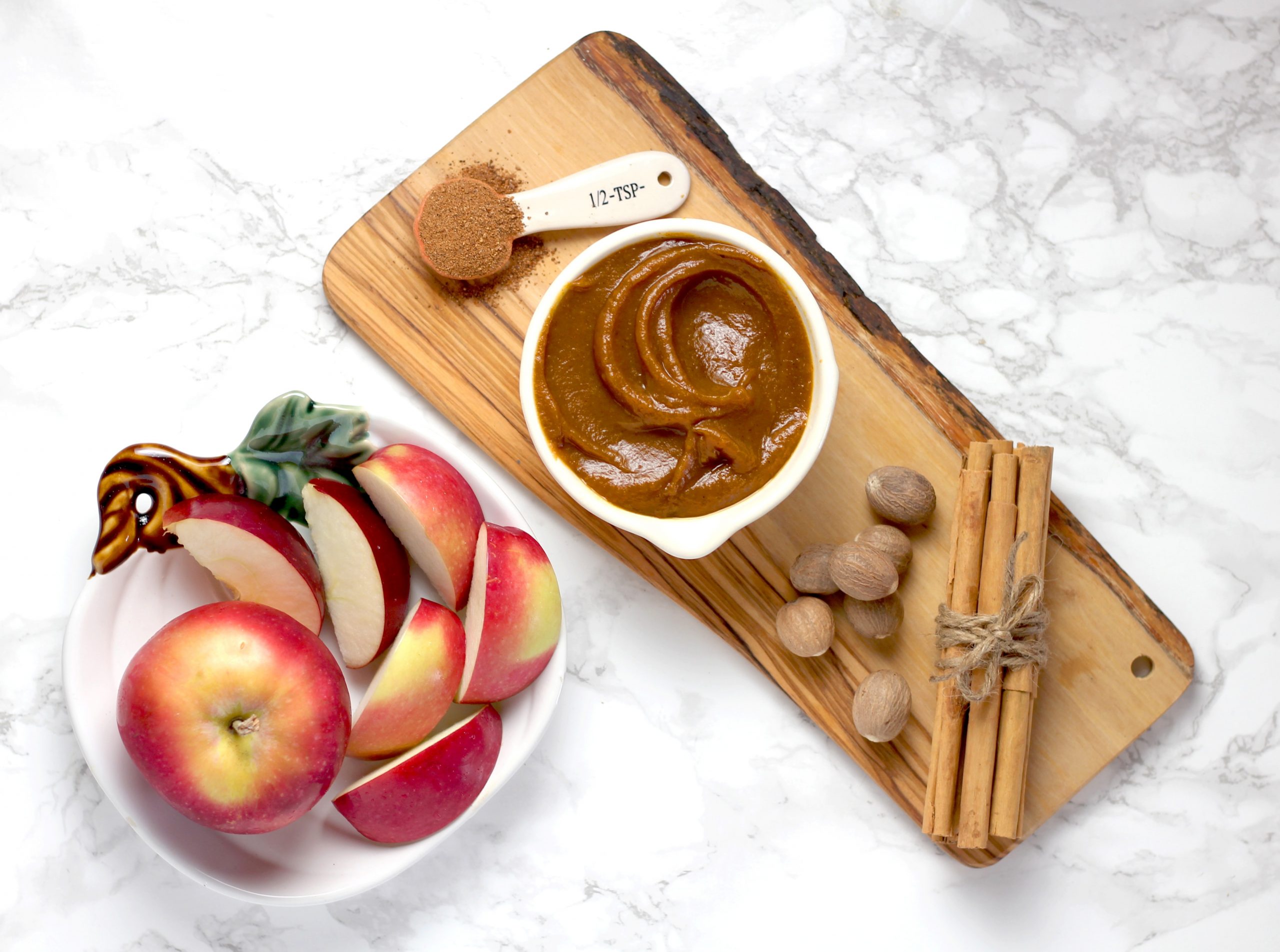 Fall brings us wonderful apples here in Central Ohio. Reminds me of simpler times when we'd go apple picking in the morning, then make big batches of apple butter to remind of us fall's fun through the winter. I had a bit of fun adding some new flavors to the traditional apple butter handed down from my mom.
Since we are also somewhat of chili fanatics at North Market Spices a plan was baked to use our Chipotle Apple Pie Spice Blend in one batch. The other batch, Pumpkin Pie Spice based brought another well loved flavor combination to the mix.
This recipe makes a fairly large batch, about 64 fluid ounces. Enough to have plenty on hand and share a few jars with friends. Utility grade apple or seconds are put to use here. No need to pay for the best looking apples when they will be broken down to to a spread consistency. When selecting apples use varieties that are more for cooking than eating out of hand. We often use a mix of varieties. This batch was sourced from Ochs Fruit Farm in Lancaster, Ohio.
Ingredients:
1 Peck Apples
1 Cup Brown Sugar packed
2 oz package Chipotle Apple Pie Spice or Pumpkin Pie Spice
1 Cup Apple Cider
Procedure:
Sterilize jars and lids, set aside, if planning on canning the Apple Butter. Otherwise will keep 2-3 weeks in refrigerator.
Preheat oven to 400 degrees
1/4 Apples and place in roasting pan. For larger apples cut into 1/6's or 1/8's. No need to core or peel apples.
Sprinkle spice blend and brown sugar over apples.
Roast till soft, a paring knife will meet little resistance when slid into the roasted apples. About an hour.
Lower oven to 300 degrees
Using an immersion blender break up the roasted apples in the roasting pan.
Using a food mill, process the now broken up apple and spice mixture till smooth. You want to use a food mill for this instead of a food processor in order to remove the seeds and skins. Being a bit on the OCD side we an OXO Food Mills coarse then fine discs. Deglaze roasting pan with the apple cider. Pass that bit through the food mill too.
Place Apple Butter in a large pot, such as an enameled cast iron Dutch Oven, the larger the diameter the better, for surface area. Cook the apple butter down, stirring every 1/2 hour or so, for approximately 2-3 hours till the desired consistency is reached. You can stand a spoon in ours.
If canning, process immediately. Otherwise, let cool and transfer to jars. Refrigerate.
We recommend using canned versions within 6 months, will keep for a year in a cool dark place. Always refrigerate after opening.