On May 19 the historic North Market hosted it's annual Apron Gala. Market vendors are each asked to create a dish to be shared at the event. Attendees vote for their favorite dishes in three categories: hors d'oeuvres, entree and dessert. This year we competed in both dessert and entree categories.
Our dessert, a chipotle apple pie spiced bread pudding, was well received but didn't take home any prizes. However…
Our entree, a pulled pork slider, took the top prize and we couldn't be more thrilled!
We want you to make this award winning recipe at home, so we thought we'd share it. Use it at your next party or event and the crowd will go wild!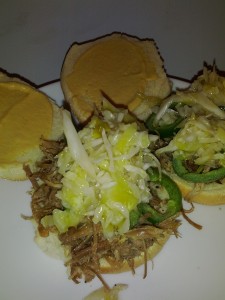 Ingredients
1 10 pound, bone-in pork shoulder
8 ounces Gala Rub
vinegar
cabbage
olive oil
jalapenos
dijon mustard
buns
Method
Pulled Pork – coat the pork shoulder in 8 ounces of our Gala Rub.  Pre-heat oven/crock to 225 degrees.  Pour a shot of vinegar in your dutch oven or crock pot (we used Spanish Sherry Vinegar).  Place pork shoulder in the dutch oven or crock pot and leave it be for 12 hours.  Strain the liquid off and pull the pork apart with forks and remove the bone.  Discard bone and juices.
Slaw – 2 cups of thinly sliced cabbage.  You can use either green or red.  Mix with 2 tablespoons of extra virgin olive oil and 2 table spoons of red wine vinegar.  Salt to taste.
Slider – place pulled pork on top of bottom bun.  Top with slaw and thinly sliced jalapenos.  Smear some dijon on the bottom of the top bun.
Enjoy!